About Us
KingsWellies Nursery will offer private early learning and childcare on a part or full-time basis for around 120 children from 0-5 years old. The nursery will be located conveniently beside the Four Star Village Urban Resort Hotel complex within the Prime Four Business Park at Kingswells, Aberdeen.
We are delighted to announce that KingsWellies Nursery opened on 13th April 2015. We can't wait to welcome you all in to our amazing learning environment!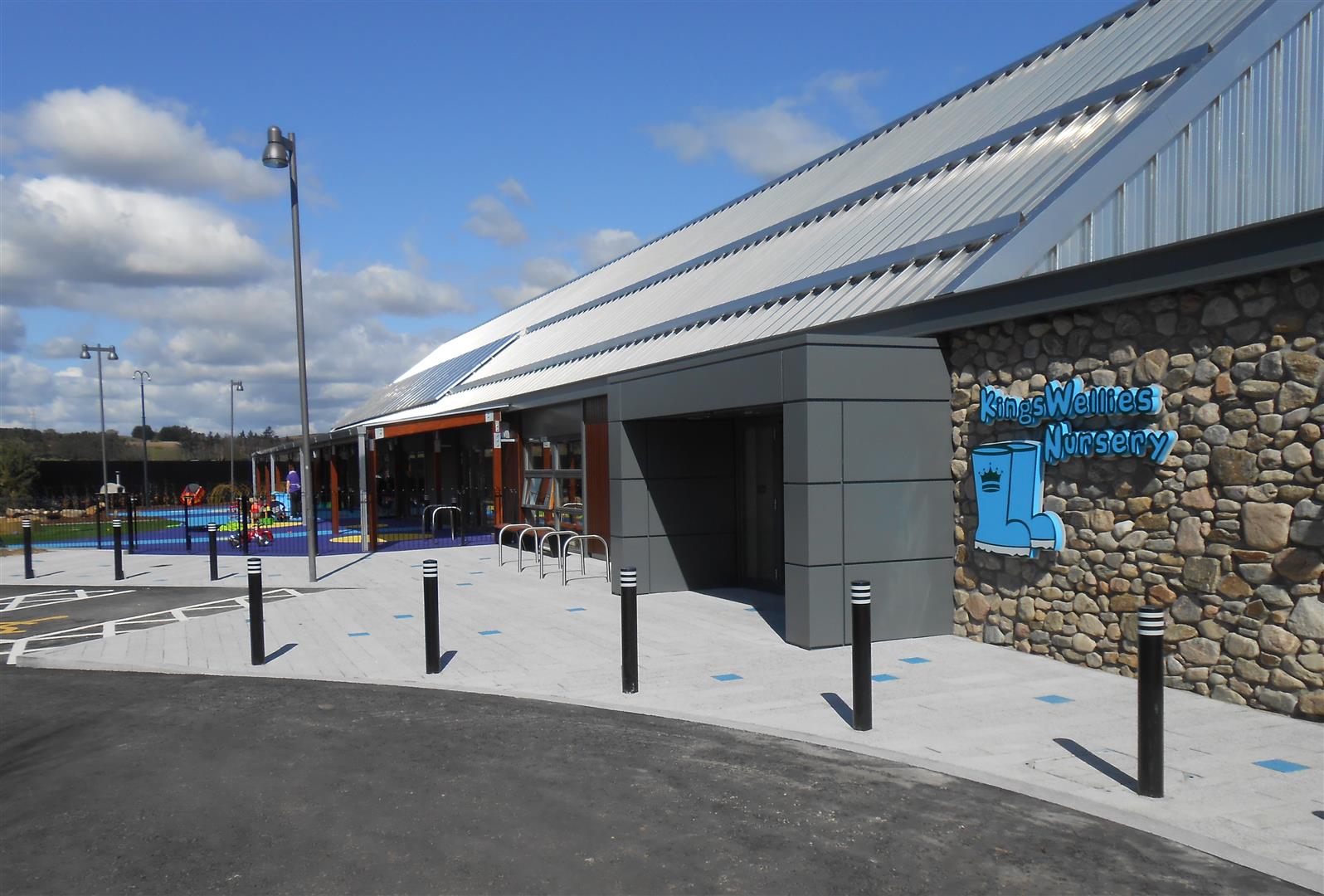 We will offer a first-class learning environment in our unique purpose-built location. Open Monday-Friday from 7.30am - 6pm, the nursery will be staffed by dedicated and specialist professionals who will support your child's learning, physical and emotional wellbeing.
At KingsWellies we will also be working towards becoming accredited as an Eco Scotland Nursery, a UNICEF Rights Respecting Nursery and a Forest School Nursery. We have lots of aims and ambitions!
KingsWellies leadership

Kerry Jane Robertson - Nursery Director
KingsWellies will be led by Nursery Director, Kerry Jane Robertson. Kerry is a qualified primary and nursery teacher with over twenty years of teaching experience and extensive knowledge of all aspects of nursery and primary childcare. She has worked as a Depute Head Teacher, Head Teacher and Education Network Manager (QIO) for the past fifteen years.
Kerry previously line-managed a total of 18 Primary, Nursery, Secondary and Special Schools within the Stonehaven and Portlethen areas. She has led both Dunnottar and Glenbervie Schools through extremely successful HMIe and Care Inspectorate Inspections and was personally highly commended by Inspectors. Kerry was instrumental in the development of 3-18 Curricular Policy for Aberdeenshire Council.
Kerry left her role as Head Teacher of Dunnottar School and Nursery in July 2014, in order to prepare KingsWellies for opening.
In December 2020, Kerry completed her 'Management of Children's Hearings (SCQF level 7 / SQA 3). She is delighted to remain as a member of the children's panel and shares her extensive knowledge with the staff of KingsWellis on a regular basis.
Marcia Love – Depute Manager/Lead Practitioner

Marcia joined Kingswellies when we opened in April 2015 as a Nursery Practitioner in our baby room. She was soon promoted to the position of Baby Room Supervisor and took on this responsibility with enthusiasm and commitment in September 2015.
Marcia has achieved her SVQ Level 4 in Childcare, Learning and Development and also an HNC in Childcare and Education.
She has over 18 years of experience in working with children from birth to five years old. Marcia also has the experience of managing and running a busy city-centre nursery where she was responsible for the ongoing monitoring and development of all aspects of the nursery practice. She successfully led her previous nursery to achieve high grades from the Care Inspectorate.
Marcia has a very positive attitude towards challenge and is widely experienced in working with other external agencies in order to ensure the highest quality of care and education for all of the children within her care. Marcia has ambition for every child that walks through the KingsWellies door and her aim is to ensure that we get it right for every child!
Marcia is very passionate about building the best learning and teaching environment possible within KingsWellies Nursery, whilst creating a family-based ethos that we can all be extremely proud of.

Laura Barry – Depute Manager/Lead Practitioner
Laura joined KingsWellies when we opened in April 2015 as a Nursery Practitioner in our Toddler room. She was soon promoted to the position of Room Supervisor in April 2016 and thrived in her new appointment. Laura has achieved her HNC in Childcare and Education and has over 10 years of experience in working with children from birth to five years old.
Laura has an excellent understanding of national and local curriculum policies and a very good knowledge of current planning and assessment procedures. She consistently demonstrates her ability to relate very well to children, parents, carers and other professional colleagues and has a proven record of being very adaptable and willing to try new ways of working,
With proven leadership skills, Laura consistently leads the planning, implementation and evaluation of high quality learning activities. Laura's unique ability to motivate, stimulate and enthuse children and other colleagues ensures a positive working ethos within the nursery.

Kerryn McRae – Office Supervisor/Lead Practitioner
Kerryn has been a part of the KingsWellies Team a few months shy of when we first opened in 2015! She started off part time as a Trainee Practitioner (while she completed her BA (Hons) in International Business Management at RGU) and has since completed her SVQ3 Social Services (Children and Young People). She is now a full-time qualified member of staff as one of our Baby Room Supervisors as well as the Office Supervisor too!
On top of her SVQ3, she has also undertaken an extensive Creative Skills course through Starcatchers to achieve her SVQ in Creative Skills and has worked on an SVQ2 in Understanding Mental Health in Children and Young People. She has keenly embedded this knowledge into the learning and experiences of the children at nursery.
In most cases, Kerryn is the first point of communication you will have with the nursery, so she is an integral part of KingsWellies' business! She is the one who sends out the most emails to parents, so if you have any questions please don't hesitate to get in contact! Kerryn keeps us all organised and helps us grow from strength to strength.
KINGSWELLIES TEAM
Evidence shows that the best experiences for children come from the best qualified staff. By far the most important thing to us at KingsWellies is our people. As well as always aspiring to be the best Nursery for our children and parents, we also want to be the best company to work for that we can possibly be. We want to develop an amazing team of hardworking, passionate, driven and talented people who all share our vision and aims for KingsWellies.
We believe in over-investing in our staff team. We believe steadfastly in personal and professional development. We believe resolutely in paying better wages and providing benefits to our team. We believe in constantly challenging ourselves as an employer. We believe that without our amazing team, we would be nothing.
All KingsWellies staff will be registered with the Scottish Social Services Council (SSSC) and will hold childcare qualifications in line with The National Care Standards. All staff will also be screened through Disclosure Scotland and each will be a member of the Protecting Vulnerable Groups Scheme.
All KingsWellies staff will undergo continuous on-the-job training in order to improve their knowledge, skills and qualifications.
A team of Nursery Nurses and Nursery Assistants will complete the highly qualified KingsWellies team.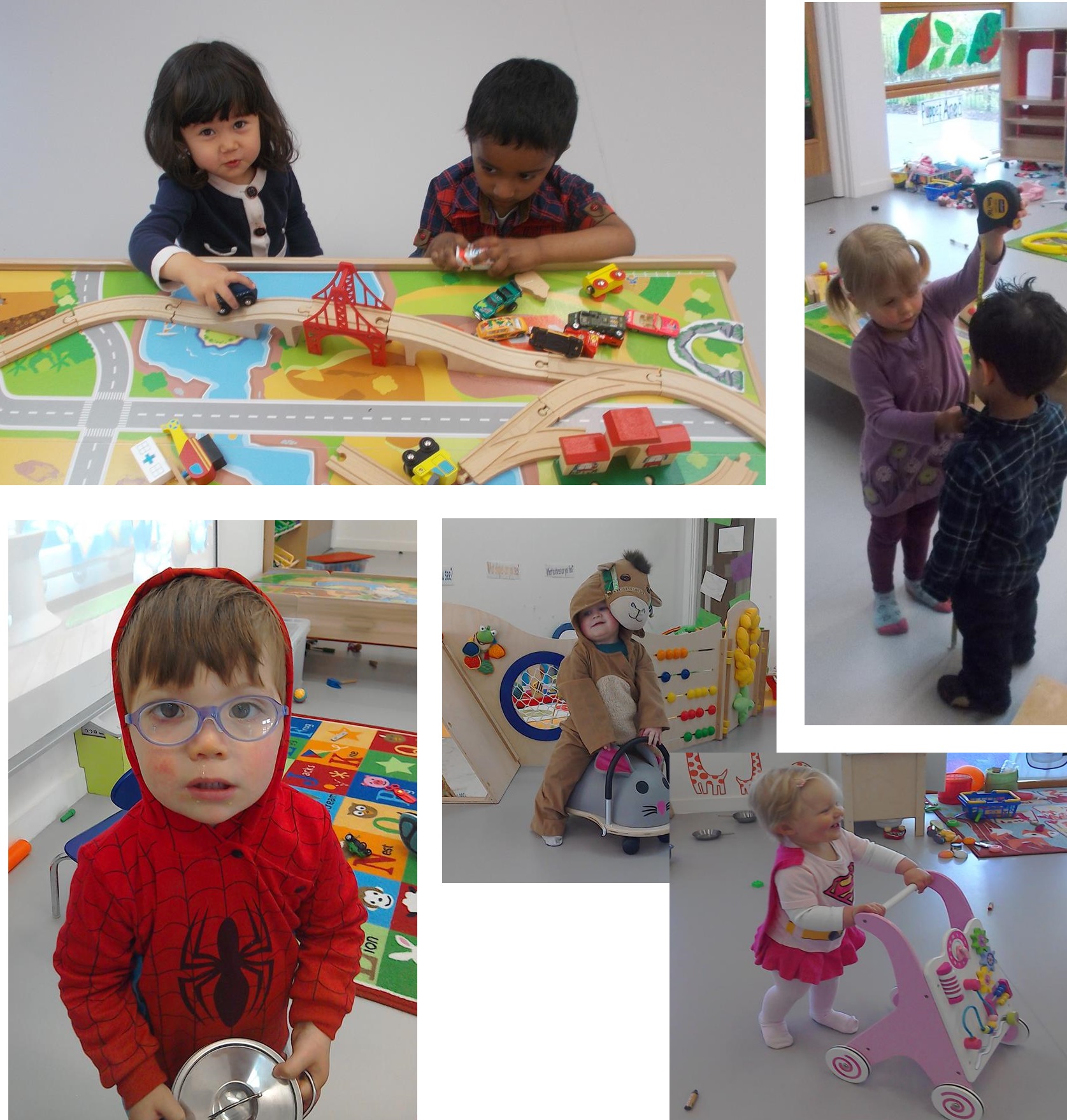 NURSERY PLAYROOMS
We want to make the best use of our excellent play space. The children will be encouraged to move from room to room and to use the learning and teaching resources throughout the nursery. We will use a very child-centred approach to ensure that we are meeting the individual needs of your child.
Wellie Babies – From 0 years to around 2 years old (depending on the child)
Wellie Tots – From around 18 months to 3 years old (depending on the child)
Wellie Beans – From around 2.5 years to 5 years old (depending on the child
Partnership with parents
You as parents are the prime educators of your children in their earliest years. At KingsWellies, we clearly recognise that you have a critical role to play in working with us to support your child's development and learning. We recognise that children do better when parents, carers and staff work closely together.
KingsWellies will have an open-door policy whereby parents will be encouraged to visit their children or have lunch with them. Staff will also always be available to listen to your comments or suggestions and will work hard to build meaningful and positive relationships with you.
Each child at KingsWellies will also have their own individual Learning Journey. Staff will complete this regularly to record your child's milestones and achievements. These will be shared with you and your child on an ongoing basis. At the end of each session, you will also receive a detailed written update which will inform you about your child's day. This is where you will be able to see the activities that your child has enjoyed, the food they have eaten, nappy changes, behaviour patterns and their sleep record. Our older children will also each have a Home/Link jotter which will be used as a means of two-way communication between nursery and home.
It is only by working together that we can be THE BEST!