About Us
Our Wellies Nurseries will offer private early learning and childcare on a part or full-time basis for children from 0-5 years old.
KINGSWELLIES NURSERY - KINGSWELLS, ABERDEEN
KingsWellies opened its doors in April 2015. When you join KingsWellies, your child will be allocated a space in one of our four fantastic playrooms.This will depend on the age and stage of your child. KingsWellies has grown and developed over the years into a very highly regarded childcare setting. Please refer to our Inspection Reports and Parent Reviews to read about our successes for yourself.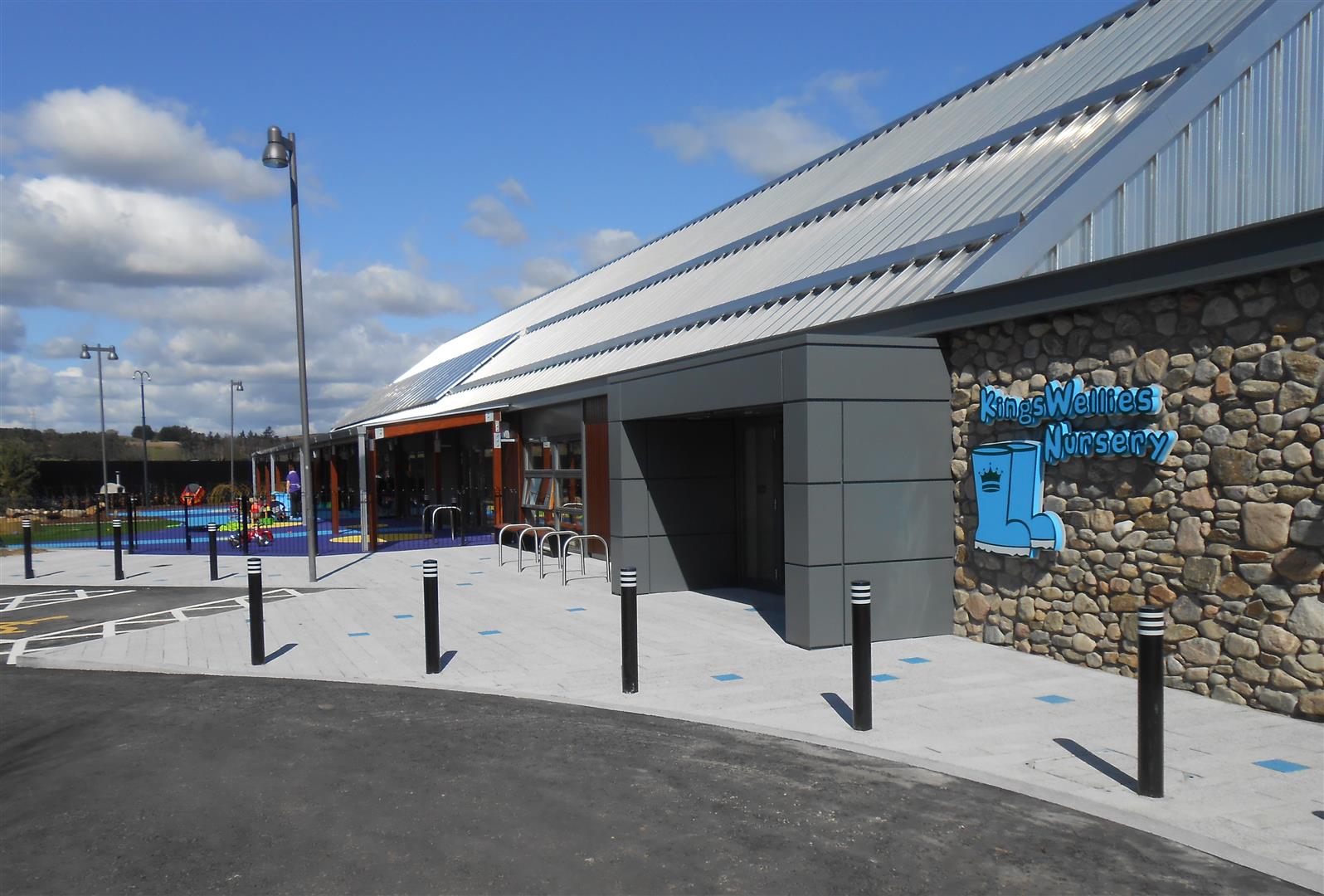 Wellie Jellies - based at KingsWellies Nursery
We have opened a new room for our 3-5 year age range. We are called the 'Wellie Jellies'. When your child joins KingsWellies Nursery, they will be allocated a space in ONE of our FOUR rooms. This will depend on your child's age and stage of development.
Please watch our Wellie Jellies video…
QUEENSWELLIES NURSERY - QUEENS ROAD, ABERDEEN
QueensWellies Nursery opened its doors in August 2023. This new nursery is based in Queens Road, Aberdeen and benefits from Hazelhead Park and local nature reserves being right on its door. QueensWellies can hold around 60 children per day aged from 0 - 5 years old. When your child joins QueensWellies, they will be allocated a space in one of our two fantastic playrooms. QueensWellies works to the same exacting very high standards as KingsWellies. We cannot wait to welcome you to our amazing 2nd nursery!
WELLIES NURSERIES
Our Wellies Nurseries, offer a first-class learning environment in our unique locations. Open Monday-Friday from 7.30am - 6pm, our Nurseries will be staffed by dedicated and specialist professionals who will support your child's learning, physical and emotional wellbeing.
At KingsWellies we have already achieved our accreditation as an Eco Scotland Nursery. We have three Green Flags! QueensWellies will work hard to emulate this Eco Schools Scotland success. Our Wellies Nurseries will continue to work towards becoming UNICEF Rights Respecting Nurseries and Forest School Nurseries. We have lots of aims and ambitions!
Nursery leadership

Kerry Jane Robertson - Nursery Director
Our Wellies Nurseries will be led by Nursery Director, Kerry Jane Robertson. Kerry is a qualified primary and nursery teacher with over 30 years of teaching experience and extensive knowledge of all aspects of nursery and primary childcare. She has worked as a Depute Head Teacher, Head Teacher and Education Network Manager (QIO) for the past fifteen years.
Kerry previously line-managed a total of 18 Primary, Nursery, Secondary and Special Schools within the Stonehaven and Portlethen areas. She has led both Dunnottar and Glenbervie Schools through extremely successful HMIe and Care Inspectorate Inspections and was personally highly commended by Inspectors. Kerry was instrumental in the development of 3-18 Curricular Policy for Aberdeenshire Council.
Kerry left her role as Head Teacher of Dunnottar School and Nursery in July 2014, in order to prepare KingsWellies for opening. Kerry is also a member of the Children's Panel and shares her extensive knowledge with the staff at our Nurseries on a regular basis.
Kerry has very wide range of qualifications and experience. These include:
Masters of Education Degree
Scottish Qualification for Headship
Post Graduate Degree in Educational Management
Bachelor of Education (Honours) Degree - 1st Class
SVQ 3 in Mediation and Human Resources
SVQ 3 in Enhanced Practice for Children's Panel
SVQ3 in Management of Hearings for Children's Panel

Scott Angus
Scott is often found behind the scenes, he will take and process your enquires and chat through any queries you may have, ensuring all our customers leave with a smile. Scott is also our Jack of all trades! He's never one to get flustered and is our "fixer off pretty much anything". Additionally, he's very handy with a screwdriver and anything electrical / plumbing. Scott's knowledge is vast, his work history ranges from truck driving to software development to secondary school teaching. He's always our go to if we don't know the answer to something.
Scott has a passion for beer, especially brewing his own. He lays claim to brewing some "pretty good" Bavarian Helles lagers at his micro-brewery. Scott's dogs are never far behind him, Ziggy & Patsy, his best friends, the Wellies dogs.
He drinks a lot of tea, …….Scott never says no to a brew.
Scott has very wide range of qualifications and experience. These include:
Post Graduate Diploma in Education (PGDE) Secondary School
Microsoft Certified Technology Specialist-Windows SharePoint Services 3.0 – Configuration
BSc Information Systems Technology (Distinction Merit - received an Award from the British Computer Society for academic achievements)
HND Software Development

Laura Barry – Registerd Manager for KingsWellies Nursery / Senior Manager
Laura joined KingsWellies when we opened in April 2015 as a Nursery Practitioner in our Toddler room. She was soon promoted to the position of Room Supervisor in April 2016 and thrived in her new appointment. Laura has achieved her HNC in Childcare and Education and also SVQ Level 4 in Social Services (Children and Young People). Laura has over 15 years of experience in working with children from birth to five years old.
Laura oversees all aspects of our Nursery improvements. She is the Registered Manager for KingsWellies Nursery. Laura's extensive knowledge and experience also allows her to provide additional support to all of our Wellies chidren, parents and staff.
Laura has an excellent understanding of national and local curriculum policies and a very good knowledge of current planning and assessment procedures. She consistently demonstrates her ability to relate very well to children, parents, carers and other professional colleagues and has a proven record of being very adaptable and willing to try new ways of working,
With proven leadership skills, Laura consistently leads the planning, implementation and evaluation of high quality learning activities. Laura's unique ability to motivate, stimulate and enthuse children and other colleagues ensures a positive working ethos within the nursery.
Marcia Love – Registered Manager for QueensWellies Nursery

Marcia joined Kingswellies when we opened in April 2015 as a Nursery Practitioner in our baby room. She was soon promoted to the position of Baby Room Supervisor and took on this responsibility with enthusiasm and commitment in September 2015. Marcia has progressed to Registered Manager at QueensWellies and played an integral part in the opening of this new setting in August 2023.
Marcia has achieved her SVQ Level 4 in Childcare, Learning and Development and also an HNC in Childcare and Education.She has over 18 years of experience in working with children from birth to five years old. Marcia also has the experience of managing and running a busy city-centre nursery where she was responsible for the ongoing monitoring and development of all aspects of the nursery practice. She successfully led her previous nursery to achieve high grades from the Care Inspectorate.
Marcia has a very positive attitude towards challenge and is widely experienced in working with other external agencies in order to ensure the highest quality of care and education for all of the children within her care. Marcia has ambition for every child that walks through our Nursery doors and her aim is to ensure that we get it right for every child!
Marcia is very passionate about building the best learning and teaching environment possible, whilst creating a family-based ethos that we can all be extremely proud of.

Caroline Reid – Manager at KingsWellies Nursery
Caroline always looks for ways to improve the growth and development of the nursery by engaging community, partners and identifying fund raising opportunities and working collaboratively with all Wellies stakeholders. Caroline has a vast experience of engaging with the local community and a natural innovative talent.
Caroline has a unique ability to deliver top class learning programmes of activities, providing high quality play and learning opportunities that work towards the key principles of Wellies early stages learning goals. Her planning of stimulating activities across the entire setting ensures the promotion of excellent early education. Caroline's knowledge of the Early Years Curriculum ensures KingsWellies plans, schedules, coordinates and delivers education to a very high standard.

Natalie Hardie – Depute Manager at KingsWellies Nursery
Natalie joined KingsWellies in 2016 as a newly qualified practitioner. She was soon promoted to supervisor in our Pre School room after showing great leadership skills. Natalie is always finding new ways to motivate her staff team. Natalie has achieved her SVQ level three and is currently undertaking her SVQ level 4 in management and leadership. Natalie has worked in childcare with children ages 0-5 years old for over 9 years and loves every aspect of her job.
Natalie has an excellent knowledge of all national & local documentation and she also has a clear working knowledge of all current initiatives and priorities in early learning and childcare. Natalie's passion, drive and desire to improve performance and deliver better services, is felt throughout the entire nursery. Natalie empowers Wellies employees to take responsibility for their jobs and professional goals. She takes great pride in leading employees to meet the Wellies very high expectations for productivity, quality teaching, continuous improvement and aiming for excellence. Natalie's excellent interpersonal skills help to facilitate effective communication with all Wellies colleagues, children, parents/carers and partners. Natalie cannot wait to step up as Depute Manager in the Summer of 2023.

Emma Campbell – Depute Manager at QueensWellies Nursery
Emma joined Kingswellies Nursery when we opened in April 2015 as a nursery practitioner in the baby room. She was soon promoted to Supervisor in September 2015. Emma has shown extreme dedication and enthusiasm within this role. She has recently been promoted again. This time to Depute Manager within our new nursery, QueensWellies. Emma has completed her SVQ Level 3 in childcare and is looking to start her SVQ level 4 in nursery management in the near future. She has 10 years experience working in the childcare sector and has experience with children from birth to five years old.
Emma has excellent knowledge of Pre Birth To Three and The Curriculum for Excellence. She is dedicated to making sure that each child is seen as an individual and able to learn at their own pace and in their own way. Emma has exceptional communication skills and demonstrates a brilliant understanding of the importance of building relationships and including parents and carers in their children's learning and development. Emma CAN NOT wait to develop all of her ideas into reality, as we move towards opening QueensWellies Nursery in Summer 2023. With Emma at the helm, it is sure to emulate the success of KingsWellies.


Depute Managers at Wellies Nurseries
We have a very strong staff team made up of Room Leaders / Supervisors who can step up to Depute Management status as and when required.
Stephanie Clark and Rachel Cross will both act as Depute Managers across our Wellies Nurseries to ensure consistency and strong leadership.
Staff TEAM / Wellies Gang
Evidence shows that the best experiences for children come from the best qualified staff. By far the most important thing to us, is our people. As well as always aspiring to be the best Nursery for our children and parents, we also want to be the best company to work for that we can possibly be. We want to develop an amazing team of hardworking, passionate, driven and talented people who all share our vision, values and aims.
We believe in over-investing in our staff team. We believe steadfastly in personal and professional development. We believe resolutely in paying better wages and providing benefits to our team. We believe in constantly challenging ourselves as an employer. We believe that without our amazing team, we would be nothing.
All Wellies staff will be registered with the Scottish Social Services Council (SSSC) and will hold childcare qualifications in line with The National Care Standards. All staff will also be screened through Disclosure Scotland and each will be a member of the Protecting Vulnerable Groups Scheme.
All staff will undergo continuous on-the-job training in order to improve their knowledge, skills and qualifications.
A team of Nursery Practitioners and Nursery Assistants will complete the highly qualified Wellies Gang team. Our staff will work across all of our Nurseries (as and when required) in order to promote consistency of learning and care.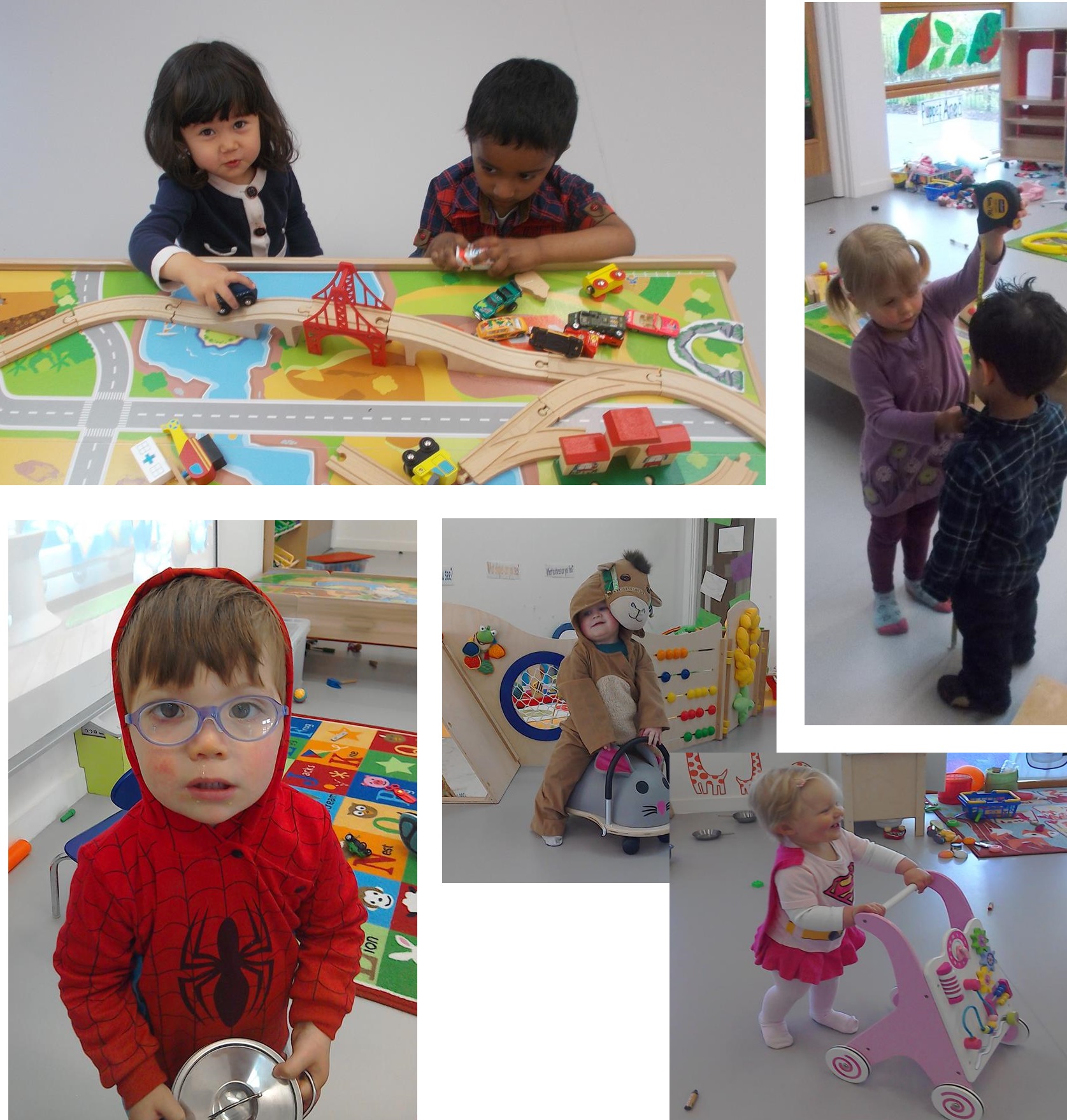 NURSERY PLAYROOMS - KingsWellies
We want to make the best use of our excellent play space. The children will be encouraged to move from room to room and to use the learning and teaching resources throughout the nursery. We will use a very child-centred approach to ensure that we are meeting the individual needs of your child.
Wellie Babies – From 0 years to around 2 years old (depending on the child)
Wellie Tots – From around 18 months to 3 years old (depending on the child)
Wellie Beans – From around 2.5 years to 5 years old (depending on the child)
Wellies Jellies - From around 3 years to 5 years old (depending on the child)
When you join KingsWellies Nursery, your child will be allocated a space in ONE of our FOUR rooms. This will depend on the age and stage of development of your child. Full transition details will be provided to all families in order to make this next move to a new room, a positive and exciting one.
NURSERY PLAYROOMS - QUEENSWELLLIES
At QueensWellies, we have two playrooms:
Wellies One - From 0 years to around 3 years old (depending on the child)
Wellies Two - From around 2.5 years to 5 years old (depending on the child)
Partnership with parents
You as parents are the prime educators of your children in their earliest years. We clearly recognise that you have a critical role to play in working with us to support your child's development and learning. We recognise that children do better when parents, carers and staff work closely together.
Staff will always be available to listen to your comments or suggestions and will work hard to build meaningful and positive relationships with you.
Each child will also have their own individual Learning Journey. Staff will complete this regularly to record your child's milestones and achievements. These will be shared with you and your child on an ongoing basis. At the end of each session, you will also receive a detailed verbal update which will inform you about your child's day. This is where you will be able to learn about the activities that your child has enjoyed, the food they have eaten, nappy changes, behaviour patterns and their sleep record.
It is only by working together that we can be THE BEST!